How to read the medals

Surfapaint Kirei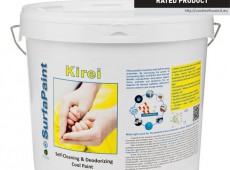 Indoor photocatalytic paint
Photocatalytic cool paint with self-cleaning properties.
By harnessing the power of surrounding light, titanium dioxide nanoparticles decompose organic substances. Prevents mould growth and reflects more than 94% of the radiation.
alert list free

voc free (zero emissions)

active properties

Decontaminates air (decomposes NOx, SOx and VOCs)

transparent information
Published in December 2018.